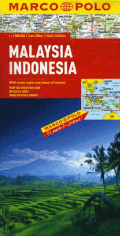 Marco Polo Malaysia Indonesia Travel Map
Price:
$11.95
You Save: $1.19 (9.96%)
Marco Polo Maps presents Malaysia and Indonesia at a scale of 1:2,000,000 on a large, double-sided map.
A fold-out flap on the map cover makes travel planning easy by placing the main map in context with the remainder of South East Asia, Philippines and the northern coast of Australia. Popular places are indicated and a grid system makes it easy to find places on the main map. A set of seven peel-on/peel-off stickers, removable from the map without damaging its surface, is included for making special locations more prominent.
Relief shading with names of mountain ranges and peaks. The map shows the region's road and rail systems, local airports and ferry connections between the islands.
National parks and places of interest are indicated. The map has latitude and longitude grid at intervals of 1° degree. Map legend includes English. A separate 40-page booklet attached to the map cover contains an extensive index of place names: towns and villages, islands, seas, topographic features such as rivers and lakes, places of interest, national parks, etc.
The map scale is 1: 2,000 000.
Published: 2013
ISBN: 9783829770002