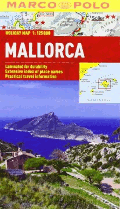 Marco Polo Mallorca Travel Map
Price:
$7.95
You Save: $0.79 (9.94%)
Laminated for Durability
Mallorca from Marco Polo Travel Publishing is a waterproof, tear-resistant map in a handy pocket format, with places of interest and scenic routes, a inset map of Palma de Mallorca, a distance table and traffic regulations, climate charts, and more.
Topography is presented by bold relief shading; protected areas are clearly marked. The map shows the island's road network, including local roads and selected country tracks and paths, highlighting scenic routes. Interesting towns and villages, as well as other sites, beaches and natural features are also highlighted with grading. The map has latitude and longitude lines at 10' intervals. The index includes places of interest and natural features.
In addition to the index, the reverse side provides more tourist information: a street map of Palma de Mallorca; brief descriptions of the island's highlights in culture, nature and activities; a distance table and main traffic regulations; useful addresses including car rental, climate charts, and a map of the whole of Balearic Islands with ferry links.
Published 2013
ISBN: 9783829770262