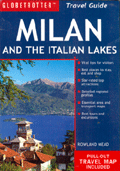 Globetrotter Milan & the Italian Lakes Travel Guide
Price:
$14.95
You Save: $2.99 (20.00%)
Practical, informative, and user-friendly
The Globetrotter Milan & Italian Lakes Guide highlights the major places of interest, describing their principal attractions and offering sound suggestions on where to tour, stay, eat, shop and relax.
Ideal for the first-time visitor
Over 25 full-color area maps, town plans and locator maps
Over 90 full-color photographs
A bargain at $14.95
Need a great map of Milan? The Insight Fleximap of Milan is a great choice for all travelers.
ISBN: 9781845378486