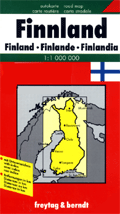 Freytag und Berndt Finland Map Travel Map
Price:
$10.95
You Save: $1.09 (9.95%)
Freytag & Berndt- Austrian Publishers of Travel Maps & Atlases.
• Computerized Cartography
• Easy-to-read Index
• Multi-lingual map key.

Freytag & Berndt maps are handy road maps that cover most of Europe as well as Asia and Africa. With over 175 country and city maps as well as atlases, Freytag & Berndt know how to get you there!
Finland
Scale-1:1,000,000
Freytag & Berndt
ISBN: 385-0842-568