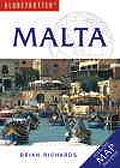 Globetrotter Malta Travel Guide
Price:
$14.95
You Save: $2.99 (20.00%)
Travel Guide and Map in one easy Pack!
All the information you need on a destination in one handy pack. This exciting new addition to the Globetrotter range offers exceptional value for money by combining Guide and Map in a pocket-sized, plastic wallet. Each pack contains the relevant Globetrotter Travel Guide and a full-size Travel Map folded to fit the wallet. (7 1/2' x 5 1/4' x 5/8')
Practical, informative and user-friendly, the Globetrotter Travel Guide to Malta highlights the major places of interest, describing their principal attractions and offering sound suggestions on where to tour, stay, eat, shop and relax.
Ideal for the First Time Visitor
Over 30 full-color maps, town plans and locator maps
Over 100 full-color photos
Need a great map of Malta? The Insight Fleximap of Malta is a great choice for all travelers.
ISBN: 1-85974-596-2