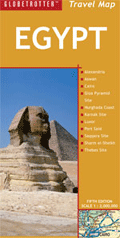 Globetrotter Egypt Travel Map
Price:
$8.95
You Save: $0.89 (9.94%)
Designed for Tourists
This large fold-out travel map of Egypt allows you to locate cities, towns, major roads and scenic routes, airports, hotels, golf courses, holiday resorts, parks and nature reserves. In addition, the reverse sides incorporate area maps and town and city plans of the major centrers.
A map of Egypt is on one side of the page; the city/site maps are on the other side of the page.
Includes maps of:
Alexandria (1:39,000)
Aswan (1:20,000)
Cairo (1:20,000)
Giza Pyramid Site (1:15,600)
Hurghada Coast (1:100,000)
Karnak Site (1:11,000)
Luxor (1:18,000)
Port Said (1:16,000)
Saqqara Site (1:16,500)
Sharm el-Sheikh (1:17,000)
Thebes Site (1:35,000)
Also includes regional climate charts, full-color photographs, a distance chart in kilometers, and a concise place-names index.
Map is 10 x 5 in folded and 39 x 28 unfolded.
Scale: 1:2,000,000
ISBN: 1845374312