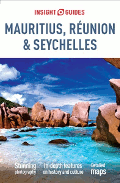 Insight Mauritius, Reunion & Seychelles Travel Guide
Price:
$24.99
You Save: $5.00 (20.01%)
From the Leaders in Visual Travel Guides & the Discovery Channel
These three island countries and regions conjure up instant images of white sand beaches, honeymoons, and general luxury travel, but there is so much more to discover in addition. Be inspired to visit by the fully-updated new edition of Insight Guide Mauritius, Reunion & Seychelles, a comprehensive full-colour guide to three very distinctive destinations.
Inside Insight Guide Mauritius, Reunion & Seychelles:
A fully-overhauled edition by three expert local authors. Stunning, specially-commissioned photography that brings these idyllic islands and their people to life. Highlights of the country's top attractions, including Piton de la Fournaise on Reunion, one of the planet's most active volcanoes; Anse Lazio in the Seychelles, often described as the world's best beach; and Mauritius's Black River Gorges National Park, rich with lush flora and fauna.Descriptive region-by-region accounts cover all three destinations in depth, including the off-the-beaten-track island of Rodrigues, located off Mauritius, and all of the islands that make up the three nations and territories.Detailed, high-quality maps throughout will help you get around and travel tips give you all the essential information for planning a memorable trip, including our independent selection of the best places to eat and the best activities on offer.
Published: February 2016
ISBN: 9781780058405