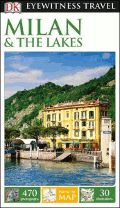 DK Eyewitness Milan & The Lakes Travel Guide
Price:
$25.00
You Save: $5.00 (20.00%)
The Guides that Show You What Others Only Tell You
Eyewitness Guides are marvels of writing, color photography, and illustration!
In this guide to Milan & The Lakes, you get:
Over 750 photographs, illustrations, and maps
Cutaways and floor plans of all the major sights
3-D aerial views of Milan's historic districts
Where to eat, where to stay, and how to get around
Includes a survival guide with all the practical information you need
This eyewitness travel guide helps you get the most from your stay in Milan & The Lakes with the minimum of practical difficulty. It is lavishly illustrated, gorgeous, entertaining and enlightening.
Published: April 2017
ISBN: 9781465457424