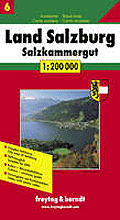 Freytag und Berndt OE6 -Land Salzburg - Salzkammergut Travel Map
Price:
$10.95
You Save: $1.09 (9.95%)
Freytag & Berndt - Austrian Publishers of Travel Maps & Atlases
Freytag & Berndt maps feature:
Computerized Cartography
Easy-to-read Index
Multi-lingual map key.
Freytag & Berndt maps are handy road maps that cover most of Europe as well as Asia and Africa. With over 175 country and city maps as well as atlases, Freytag & Berndt know how to get you there!
Freytag & Berndt maps are beautiful and highly detailed. They come with stiff covers and extra heavy paper for durability.
There is a complete place index along with city maps of Salzburg and Salzburg Center. This is a one-sided map. The legend is presented in 4 languages: German, English, French, and Italian.
Map Coverage is show below in the bright yellow area (6).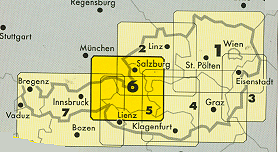 Land Salzburg - Salzkammergut
Freytag & Berndt
Scale 1:200,000
ISBN: 3850843467