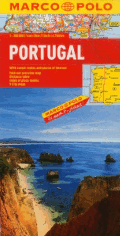 Marco Polo Portugal Travel Map
Price:
$11.95
You Save: $1.19 (9.96%)
Scale 1:300,000
Portugal from Marco Polo Travel Publishing is a map with prominent highlighting of interesting locations, enlargements for the environs of Lisbon, Braga, Porto and the Algarve, plus an index booklet with 7 city maps and brief descriptions of 15 selected top sights, etc. Portugal is divided north/south, with a good overlap between the sides. Coverage includes a part of Spanish Galicia but – please note – extending only to Pontevedra and Ourense, i.e. not as shown on the publishers' coverage image.
Road network includes minor roads, highlights scenic roads and shows intermediate driving distances on main roads. Railway lines and local airports are included, as well as administrative divisions with names of the provinces. Locations of interest are highlighted, with separate coloring for towns or villages and for natural sites; 15 most interesting sights are cross-referenced to their descriptions in a booklet attached to the map cover. Symbols show locations of campsites, youth hostels, etc. National parks and other protected areas are marked and topography is presented by relief shading with plenty of names of mountain ranges, valleys, etc. The map has no geographical coordinates. The index listing locations with their postcodes is in the booklet.
Enlargements show in greater detail the environs of Lisbon, Braga, Porto and the Algarve from west of Lagos to east of Faro. The booklet also provides street maps of town centers in Lisbon, Braga, Coimbra, Faro, Funchal, Porto and Sintra, plus lists of airports, UNESCO World Heritage sites, national parks and amusement parks. Multilingual map legend and all the text include English.
A fold-out flap in the cover shows for route planning an overview of the whole area covered by the map plus the adjacent regions, prominently highlighting main places of interest, with the grid reference system in the margins making it easier to find locations on the main map. Also included are a distance/driving times table and basic driving regulations.
Published 2012
ISBN: 9783829767163