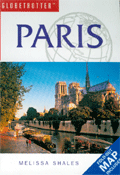 Globetrotter Paris Travel Guide
Price:
$14.95
You Save: $2.99 (20.00%)
Practical, Informative and User-Friendly
The Globetrotter Travel Guide to Paris highlights the major places of interest, describing their principal attractions and offering sound suggestions on where to tour, stay, eat, shop and relax.
This book is ideal for the first-time visitor.
Over 30 full-color area maps, town plans and locator maps
Over 85 full-color photograph
This great travel guide is a great bargain. You could pay almost as much just for the map alone.

ISBN: 1845371542