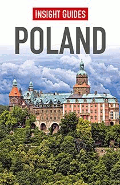 Insight Poland Travel Guide
Price:
$24.99
You Save: $5.00 (20.01%)
From the World leaders in Visual Travel Guides and the Discovery Channel
Poland is a country in transformation, keen to drop its Communist past and become an integral part of a modern, innovative Europe. Be inspired to visit by the new edition of Insight Guide Poland, a comprehensive full-color guide comprehensively updated by a team of local Polish writers keen to showcase the beauty and new attractions that their country has to offer.
Inside Insight Guide Poland:
* A fully-overhauled edition by our team of local authors.
* Stunning new photography that brings this fascinating country and its people to life.
* Highlights of the country's top attractions, including the beautifully preserved Krakow, the newly regenerated Gdansk and the spectacular Tatra Mountains in our Best of Poland
* Descriptive region-by-region accounts cover the whole country from the dense forests and "shifting" sand dunes of its national parks to the top sea and sun destinations in Western Pomerania.
Detailed, high-quality maps throughout will help you get around and travel tips give you all the essential information for planning a memorable trip, including our independent selection of the best restaurants.
Published: September 2015
Need a great map of Poland? The Michelin Map of Poland is a great choice for all travelers and business people.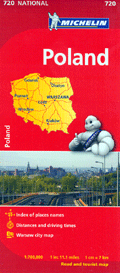 ISBN: 9781780058085