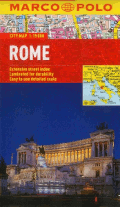 Marco Polo Rome Travel Map
Price:
$7.95
You Save: $0.79 (9.94%)
Waterproof, tear-resistant street map of Rome at a scale of 1:15,000 from Marco Polo Travel Publishing with a diagram of the Metro network, a road map of the city's environs, and an index which also lists places of interest. There is an more detailed map of Rome's historic center including the Vatican at a scale of 1:10,000.
Coverage extends roughly from the Vatican to beyond the exit from the city onto the western part of the ring road, and north/south from the Olympic stadium to the EUR. On the other side is a map at a scale of 1:10,000 that covers the city center from the Vatican and Monte Gianicolo to the Coliseum and the Forum. The maps show metro stations, one way streets, parking sites and pedestrian areas. Important buildings and places of interest are marked.
The index is on the reverse side and includes extensive lists of useful contact details for tourist information offices, airports and railway stations, hotel reservation, campsites and youth hostels, car rental, historical sites and museums, emergency services, etc.
Published: June 2012
ISBN: 9783829769594