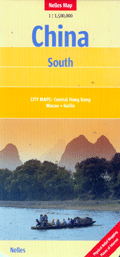 Nelles Southern China Travel Map
Price:
$13.95
You Save: $1.39 (9.96%)
OUT OF STOCK
Includes:
Geographical relief mapping
Elevations in kilometers
Legend Key in three languages.
Nelles Verlag, out of Germany, offers top quality cartography. Added relief mapping, kilometer charts and clearly labeled tourist attractions make them top choices for travel or study.

Nelles Southern China Map has a soft gray and green color scheme which makes for easy reading.
This map covers the region of Southern China, from Fuzhou and Xiamen on the east coast to the western border with Myanmar. Fujian, Guangdong, Guizhou and Yunnan provinces are covered on this map.
Includes City Maps of Central Hong Kong, Macau and Guilin.
Scales:
South China: 1:1.500.000
Central Hong Kong 1:15.000
Guilin 1:30.000
Macau 1:22.000
ISBN: 9783865740182