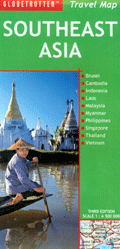 Globetrotter Southeast Asia Travel Map
Price:
$8.95
You Save: $0.89 (9.94%)
Includes Brunei, Cambodia, Indonesia, Laos, Malaysia, Myanman, Philippines, Singapore, Thailand and Vietnam
This user-friendly travel map has been specifically designed for visitors as a practical and informative guide to Southeast Asia.
More than just a map, it includes detailed street plans of major towns and large-scale projections of popular tourist destinations. This map contains regional climate charts, full color photographs, concise place names index and much more.
The map measures 5" x 10" folded and unfolds to an easily-manageable 28" x 39". The map of Southeast Asia appears on one side of the page; the city maps and photos appear on the other side of the page.
City Maps include:
Mandalay
Phuket
Penang
Singapore
Singapore Center
Yangon (Rangoon)
Chiang Mai
Bangkok
Kuala Lumpur
Vientiane
Phnm Penh
Hanoi
Ho CHi Minh City
Manila
Jakarta
Cebu City
Bali
Denpasar
Scale of Southeast Asia Map: 1:6,500,000
Area of coverage (in yellow):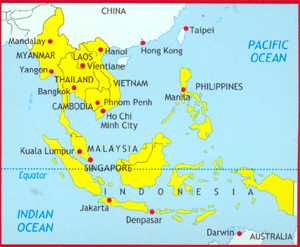 ISBN: 1845373383