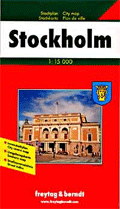 Freytag und Berndt Stockholm Travel Map
Price:
$12.95
You Save: $1.29 (9.96%)
Freytag & Berndt - Austrian Publishers of Travel Maps & Atlases
Freytag & Berndt maps feature:
Computerized Cartography
Easy-to-read Index
Multi-lingual map key.
Freytag & Berndt maps are handy road maps that cover most of Europe as well as Asia and Africa. With over 175 country and city maps as well as atlases, Freytag & Berndt know how to get you there!
This large street map of Stockholm and its inner suburbs also includes an enlargement for the historic Old City. Coverage extends from Sundbyberg in the north to Huddinge district in the south, and from Drottningholm in the west to Nacka in the east. An index of street names is located on the reverse of the map.
The map shows metro and suburban railway stations, ferry lines and parking facilities. Main public buildings are named and museums, theatres, etc., highlighted by symbols.
Gamla Stan and the adjoining areas are shown in greater detail at 1:7,500. Map legend includes English.
Scale 1:15,000
Published:2012
ISBN: 9783707903508