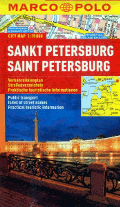 Marco Polo St Petersburg Travel Map
Price:
$7.95
You Save: $0.79 (9.94%)
The optimum city map for exploring, shopping and much more. The laminated, pocket format is easy to use, complete with public transport maps. The detailed scale shows even the smallest streets and it includes an extensive street index. Also includes Tourist Information and the Top 10 highlights the city has to offer.
Marco Polo St. Petersburg is a pocket-sized street map printed on durable, waterproof and tear-resistant synthetic paper, at a scale of 1:15,000 with an enlargement of the city Center, metro stations clearly marked and the whole network also shown on a separate diagram, one way streets, lists of useful addresses, etc. Names of metro stations and main streets or squares are shown in both Cyrillic and Latin alphabets; all other names are in the Latin alphabet only. Important buildings and places of interest are highlighted and shown with the transliterated versions of their Russian names.
The map covers St. Petersburg with its outer districts, highlighting main traffic arteries. The central part, from the Admiralty and the Winter Palace along both sides of the Nevsky Prospect, is presented in greater detail on and enlargement. Metro stations are prominently marked, and the map also shows ferry connections on the Neva. Multilingual map legend includes English.
The index is on the reverse side and includes lists of useful contact details for tourist information offices, hotel reservation, car rental, places of entertainment, emergency services, etc. The map also includes a diagram of the metro network and a small road map of the city's environs.
Scale: 1:15,000
City Center: 1:10,000
Published 2012
ISBN: 9783829730785