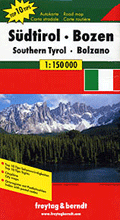 Freytag und Berndt Southern Tyrol - Bolzano Travel Map
Price:
$14.95
You Save: $1.49 (9.97%)
Tourist Map with Top Ten Tips for sightseeing
This one-sided map is printed on extra-sturdy paper with a cardboard cover.
It has a small booklet with a complete index of place names and a map of central Bolzano (Bozen), Lienz, and Merano (Meran). The booklet also includes the top 10 tips. All information is presented in four languages: English, German, Italian and French.
This is a beautiful map with bright colors and relief shading. It is a very detailed map of Southern Tyrol. It is presented at a scale of 1:150,000.
Southern Tyrol is usually refers to Northern Italy. This map includes that portion of Austria to Innsbruck.
ISBN: 9783707902808