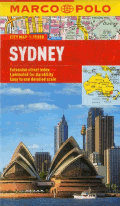 Marco Polo Sydney Travel Map
Price:
$7.95
You Save: $0.79 (9.94%)
Waterproof, tear-resistant street map of Sydney at a scale of 1:15,000 from Marco Polo Travel Publishing with a diagram of the City Rail network, a road map of the city's environs, and an index which also lists places of interest. Includes an inset map of the city center at a scale of 1:10,000.
The map extends north to include the suburbs beyond the Sydney Harbor Bridge, west to include the Sydney Harbor National Park and Queen's Park, and east to Hen and Chicken Bay. Bus routes are shown with line numbers, City Rail stops are marked, and ferry connections are also shown. For drivers the map highlights principal traffic routes across the city, shows the interchanges onto expressways and indicates one way streets. Important buildings are highlighted and named. Street index on the opposite side includes separate lists and contact details of various places of interest and facilities, such as public transport information, museums and other attractions, recommended shops and shopping centers etc.
An inset map shows the city center in greater clarity and detail at 1:10,000. Also provided is a diagram of the City Rail network, plus a road map of the city with its outer suburbs.
Published: December 2012
ISBN: 9783829769693