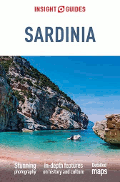 Insight Sardinia Travel Guide
Price:
$20.99
You Save: $4.20 (20.01%)
From the World leaders in Visual Travel Guides and the Discovery Channel
Sardinia is known for its crystal-clear emerald seas, snow-white beaches and glitzy resorts, but those who venture inland will be rewarded by equally a beautiful scenery of mountainous landscape and intriguing caves. Be inspired to visit by the new edition of Insight Guide Sardinia, a comprehensive full-color guide to this rugged jewel of an island.
Inside Insight Guide Sardinia:
* A fully-overhauled edition Stunning, specially-commissioned photography that brings this breathtaking island and its people to life.
* Highlights of the island's top attractions, including Catalan culture in Alghero, glitzy Costa Smeralda resorts and a trip on the quirky "little green train" in our Best of Sardinia.
* Descriptive region-by-region accounts cover the whole islands from the dizzying limestone cliffs of the Golfo di Orosei to the capital Cagliari, the island's hub of culture and commerce.
Detailed, high-quality maps throughout will help you get around and travel tips give you all the essential information for planning a memorable trip, including our independent selection of the best restaurants. Free app for every customer.
Published: January 2016
Need a great map of Sardinia? The Touring Club Italiano Map of Sardinia is a great choice for all travelers.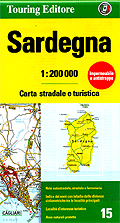 ISBN: 9781780058108