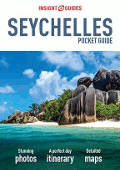 Insight Seychelles Pocket Guide Travel Guide
Price:
$9.99
You Save: $2.00 (20.02%)
Includes a Pull-out Map
Inside Insight Pocket Guide Seychelles:
* Where To Go takes you from Victoria out to the East Coast and the islands.
* Top 10 Attractions gives a run-down of the best sights to take in on your trip, including Morne Seychellois National Park, the capital Victoria, la Digue and Bird Island.
* A Perfect Day provides an itinerary for a tour of the islands.
* What To Do is a snapshot of ways to spend your spare time, from watersports and sailing to walking trails and shopping.
* Essential information on the Seychelles culture, including a brief history of the islands.
* Eating Out covers the island's best cuisine.
* Curated listings of the best hotels and restaurants.
* A-Z of all the practical information you'll need.
About Insight Guides:
Insight Guides has over 40 years' experience of publishing high-quality, visual travel guides. We produce around 400 full-colour print guide books and maps as well as picture-packed eBooks to meet different travelers' needs. Insight Guides' unique combination of beautiful travel photography and focus on history and culture together create a unique visual reference and planning tool to inspire your next adventure. Insight Guides has spawned many imitators but is still the best of its type
Published: April 2017
ISBN: 9781786715692