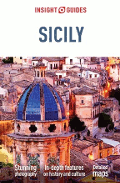 Insight Sicily Travel Guide
Price:
$21.99
You Save: $4.40 (20.01%)
From the World leaders in Visual Travel Guides and the Discovery Channel
Insight Guides: Inspiring your next adventure
Beautiful and seductive, the Italian island of Sicily offers everything from Greek and Roman temples to mouthwatering street food and a dramatic scenery topped by mighty Mount Etna. Be inspired to visit by the new edition of Insight Guide Sicily, a comprehensive full-color guide to the largest of the Italian isles.
Inside Insight Guide Sicily:
* A fully-overhauled edition.
* Stunning, specially-commissioned photography that brings the island and its people to life.
* Highlights of the island's top attractions in our Best of Sicily, including the frenetic capital Palermo, alongside Agrigento's fine Greek temples and, further afield, the stunningly beautiful Aeolian Islands, popular for volcano-climbing.
* Descriptive region-by-region accounts cover the whole of the island, from Val di Noto's sublime Baroque architecture to the dizzying heights of Mount Etna.
Detailed, high-quality maps throughout will help you get around and travel tips give you all the essential information for planning a memorable trip, including our independent selection of the best restaurants. Free app for every customer.
Published: March 2016
The best driving map of Sicily is published by Touring Club Italiano. We recommend the TCI Maps for all of Italy!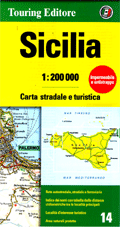 ISBN: 9781780053110