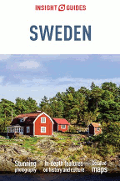 Insight Sweden Travel Guide
Price:
$23.99
You Save: $4.80 (20.01%)
From the World leaders in Visual Travel Guides and the Discovery Channel
Discover Sweden, a wonderful place surrounded by tall mountains, rich folklore and cool design. Be inspired by this new edition of Insight Guide Sweden, a comprehensive full-color guide to this breathtaking country whose cuisine has taken the world by storm.
Be inspired by our Best of Sweden section highlighting unmissable sights and experiences and lavish Photo Features on topics such as saunas, folklore and foraging. A detailed Places section, with stunning travel photography and full-color maps, shows you where to go and what to do
* A comprehensive Travel Tips section gives you all the travel advice you need to plan your trip.
* Insight Guide Sweden now includes the Walking Eye app, free to download to smartphones and tablets on purchase of the book. The Sweden app includes our independent selection of the best hotels and restaurants, plus activity, event and shopping listings.
About Insight Guides:
Insight Guides has over 40 years' experience of publishing high-quality, visual travel guides. We produce around 400 full-color print guide books and maps as well as picture-packed eBooks to meet different travelers' needs. Insight Guides' unique combination of beautiful travel photography and focus on history and culture together create a unique visual reference and planning tool to inspire your next adventure.Insight Guides has spawned many imitators but is still the best of its type.
Published: July 2016
Need a great map of Sweden? The Michelin Map of Scandinavia is a great choice for all travelers.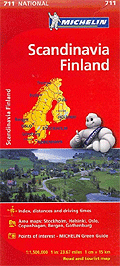 ISBN: 9781780055343