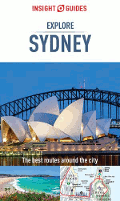 Insight Sydney Explore Travel Guide
Price:
$12.99
You Save: $2.60 (20.02%)
Brought To You by the Discovery Channel
Explore Sydney is from the popular series by insight and is the ideal companion when discovering this exciting city. This itinerary-based guide provides details of the City's best routes, written by a local expert, for that personal touch and insider information.
* Exploring the most iconic sights from the Sydney Harbour to golden Bondi Beach and out into the Blue Mountains.
* The best places to eat and drink are highlighted in each route and in the directory section, which also contains a wealth of useful practical information, including a range of carefully selected hotels to suit all budgets. All routes are plotted on the useful pull out map, and evocative photography reveals Sydney's unique character.
* The stylish design, full color photography throughout and durable, flexi bound cover makes this guide not only a pleasure to read, but also the ultimate companion when exploring Sydney.
Published: June 2016
ISBN: 9781780056784