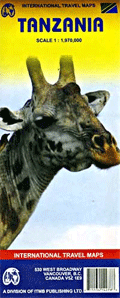 ITM Tznzania Travel Map
Price:
$12.95
You Save: $1.29 (9.96%)
International Travel Maps - Folded Travel Maps from Canada
A colorful map on durable paper suitable for all travel purposes.
Border divisions are clearly marked with major geographical landmarks clearly visible.
Emphasis on Topography
High-quality, tear resistant paper
ITM maps are richly colored, easy-to-read travel maps.
This map includes inset maps of Arusha, Dar es Salaam, and Stone Town, Zanzibar. Also included are text descriptions of Geography and History of Tanzania.
Scale 1:1,970,000
ISBN: 9781553414353