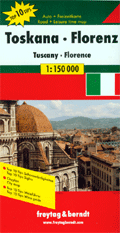 Freytag und Berndt Tuscany Florence Travel Map
Price:
$11.95
You Save: $1.19 (9.96%)
Tourist Map with Top Ten Tips for sightseeing
This two-sided map is printed on extra-sturdy paper with a cardboard cover.
It has a small booklet with a complete index of place names and a map of central Florence at a scale of 1:13.000. The booklet also includes a wine guide to the region. All information is presented in four languages: English, German, Italian and French.
This is a beautiful map with bright colors and relief shading. It contains the most detail of any of the maps of Tuscany that we have seen. It is presented at a scale of 1:150,000. Northern Tuscany is on one side of the page and Southern Tuscany is on the other side.
Unfolded, the map measures 34x49 inches.
For walking in central Florence, we recommend the Insight Fleximap - it is a lot easier to carry around.
ISBN: 3707902811