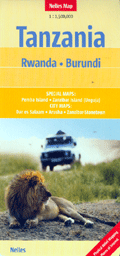 Nelles Tanzania, Rwanda, Burundi Travel Map
Price:
$13.95
You Save: $1.39 (9.96%)
Physical Relief Mapping with Places of Interest
This colorful, two-sided road map of Tanzania, Rwanda and Burundi is printed on sturdy paper with a cardboard cover. The map is 12.0 x 25.4 cm folded and 101.7 x 50.0 cm unfolded. (Note:units are centimeters not inches!) The scale is 1:1,500,000.
Coverage area: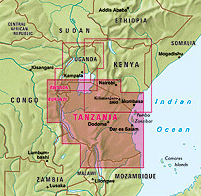 Included are these special maps (scale in parenthesis):
Pemba Island (1:500,000)
Zanzibar Island (Unguja) (1:300,000)
Arusha (1:18,000)
Dar es Salaam (1:30,000)
Zanzibar-Stonetown (1:11,100)
ISBN: 3865740731