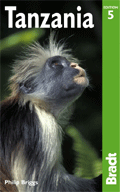 Bradt Guide Tanzania Travel Guide
Price:
$25.95
You Save: $5.19 (20.00%)
With Zanzibar, Pemba & Mafia
Tanzania is home to some of Africa's most famous landmarks, from Mount Kilimanjaro and Zanzibar to the Serengeti and Ngorongoro Crater. A haven for wildlife, including big cats and numerous species of antelope, the country also boasts a long coastline bordering the Indian Ocean and three unique islands.
This popular and extremely comprehensive guide has the latest information on planning a trip, whether visitors are seeking advice on independent travel or all-inclusive safaris in luxury game lodges.
The main attractions of the Serengeti, Ngorongoro Crater, and lakes Victoria and Tanganyika are covered in depth, with supporting advice on how to get the most out of photographic equipment, combating danger from hippos, crocodiles and snakes, recommended ground tour operators and interaction with local peoples.
Detailed description of wildlife, with color photos
In-depth information on how to organize a safari
Full exploration of the interior
Language section with KiSwahili and Maa, the Maasai language
Fully updated maps and town plans
Carry a map with you and you'll always know where you are! We recommend the ITM Map of Tanzania: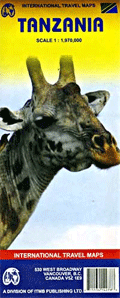 ISBN: 1841621536