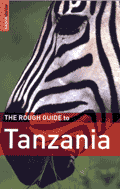 Rough Guide Tanzania Travel Guide
Price:
$23.99
You Save: $4.80 (20.01%)
It's Like Having a Local Friend Plan Your Trip!
Containing the untamed wilderness of the Serengeti, the breathtaking views of Mt Kilimanjaro and the mythic isle of Zanzibar, Tanzania is one of the more enchanting countries in eastern Africa. The Rough Guide to Tanzania provides informed coverage on how to approach the country, wherever your adventure takes you.
Explore every corner of Tanzania, using the clearest maps of any guide
Choose where to go and what to see, inspired by dozens of photos
Read great background on everything from the Indian Ocean beaches of Zanzibar to safaris in the Serengeti.
Rely on a selection of the best places to stay and eat for every budget.
Lying just south of the equator, Tanzania is East Africa's largest country, and an immensely rewarding place to visit. Filling the brochures are several world-famous attractions: the plains of the Serengeti, Ngorongoro Crater, snowcapped Mount Kilimanjaro (Africa's highest mountain) and Zanzibar, with its idyllic palm-fringed beaches and historic Stone Town.
Yet there's a whole lot more to Tanzania than these obvious highlights. Almost everywhere you go you'll find interesting wildlife and inspiring landscapes ranging from forest-covered volcanic peaks to dusty savannah populated by elephants, antelopes, lions, leopards and cheetahs.
Tanzania is one of the four most naturally diverse nations on earth: it contains Africa's second-largest number of bird species (around 1500), the continent's biggest mammal population and three-quarters of East Africa's plant species (over ten thousand). Add to this the country's rich ethnic diversity, some superb hiking, and other activities like snorkeling and diving, and you have the makings of a holiday of a lifetime.
Carry with you a great map of Tanzania. We recommend the ITM Map of Tanzania for all travelers.
ISBN: 1843535319