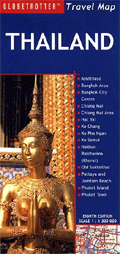 Globetrotter Thailand Travel Map
Price:
$8.95
You Save: $0.89 (9.94%)
Includes Ayutthaya, Bangkok, Chiang Mai, Hat Yai, Ko Pha Ngan, Ko Samui, Nakhon, Ratchasima, Old Sukhothai, Pattaya and Phuket
This user friendly travel map has been specifically designed for visitors as a practical and informative guide.
More than just a map, it includes detailed street plans of major towns and large scale projections of popular tourist destinations.
This colorful two-sided map is presented at a scale of 1:1,300,000. It includes an index of place names, has regional climate charts and includes a few color photographs.
The inset maps are presented at various scales depending on the size of the area.
ISBN: 9781847732460