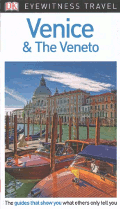 DK Eyewitness Venice and the Veneto Travel Guide
Price:
$20.00
You Save: $4.00 (20.00%)
The Guides that Show You What Others Only Tell You
DK Eyewitness Travel Guide: Venice & the Veneto will lead you straight to the best attractions Venice has on offer. Packed with photographs, illustrations, maps, cutaways and floor plans, this guide features thematic tours and walks as well as information on local produce and classical dishes to ensure the flavors of Venice are impossible to miss. Outside of Venice, the towns of Padua, Verona and Vicenza are all worth seeing in their own right, and are also included in this guide.
Whether you fancy souvenir shopping on the Ponte di Rialto or experiencing the fine European art collections at the Gallerie dell'Accademia, this is the ultimate guidebook to Italy's floating city.
Published: February 2018
ISBN: 9781465467980