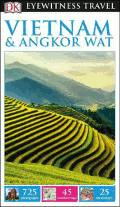 DK Eyewitness Vietnam and Angkor Wat Travel Guide
Price:
$25.00
You Save: $5.00 (20.00%)
The Guides that Show you what others only Tell You
Eyewitness Travel Guide: Vietnam & Angkor Wat is your must-have companion to this beautiful part of the world. Vietnam opened its doors to tourists in the late 1980s and its appeal has grown ever since. Blessed with a long coast, the country now attracts sun-lovers and surfers, with resorts and spas sprouting all along the coast.
This full-color, updated guide leads readers to it all, from the floating markets of the Mekong Delta in the south to the hill towns in the north, and all the best beaches to be found in between. A full chapter is dedicated to Angkor in neighboring Cambodia, with the astounding temples illustrated in detail.
Whether zipping around old Hanoi in a pedal-powered cyclo or dining on the exquisite local cuisine, the DK Eyewitness Travel Guide: Vietnam & Angkor Wat is indispensable.
Highlights of the guide include:
Cutaways and floor plans of all the major sights.
3-D aerial views of the city's most interesting districts.
Comprehensive selection of hotels, restaurants, stores, and entertainment venues.
Specially devised walking tours and so much more.
Find detailed practical advice on what to see and do, with great coverage of family-friendly destinations and activities, including information on cruises through Halong Bay to trekking in Sapa, and a guide to excursions around the temples of Angkor Wat in Cambodia. Detailed listings will guide you to the best hotels, restaurants, bars and shops for all budgets, whilst in-depth information will help you to get around, whether by train, car or otherwise. Plus, DK's excellent insider tips will get you under the skin of Vietnam and Angkor Wat, even explaining its history and traditions.
Published: January 2017
Carry a great map of Vietnam on your trip. We recommend the Globetrotter Map of Vietnam, Laos and Cambodia for all travelers.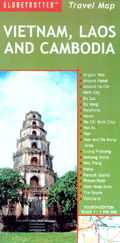 ISBN: 9781465457141