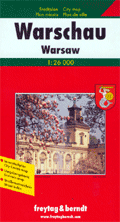 Freytag und Berndt Warsaw Travel Map
Price:
$9.95
You Save: $0.99 (9.95%)
Freytag & Berndt - Austrian Publishers of Travel Maps & Atlases
Freytag & Berndt maps feature:
Computerized Cartography
Easy-to-read Index
Multi-lingual map key.
Freytag & Berndt maps are handy road maps that cover most of Europe as well as Asia and Africa. With over 175 country and city maps as well as atlases, Freytag & Berndt know how to get you there!
Freytag & Berndt maps are beautiful and highly detailed. They come with stiff covers and extra heavy paper for durability.
This map of Warsaw has the map printed on one side of the paper and an index on the other side.
Scale: 1:26,000
Need a great travel guide to Poland? The Eyewitness Guide to Poland is a great addition. It is well written filled with adventures in sightseeing and travel activities, and has offerings for every budget. It has great photos and makes a wonderful souvenir of your trip.
ISBN: 3707903516